Homes can go through a lot of wear and tear — especially in Dubai where the city's residents live a fast-paced life. Keeping up with cleaning dishes, laundry and vacuuming from one week to the next can go a long way to maintain a tidy house, which may create a breeding ground for bacteria and germs. With the regular cleaning, you cannot completely remove the dirt from the tiles, on the kitchen cabinets, or grime on bathroom walls. It requires deep, effective, and thorough cleaning. Whether you are moving into a new apartment, or still your old property, you must consider doing deep cleaning to ensure your home is clean and healthy.
With our deep cleaning services, we provide a thorough cleaning of your home with detailed attention to areas you may have forgotten to clean up over time; making your home clean, sanitized, and sparkling like brand new, just the way you want it. From walls to scrubbing tile grout, to the refrigerator, kitchen shelves, stove grates, fixtures, furniture, and bathrooms, no area is overlooked.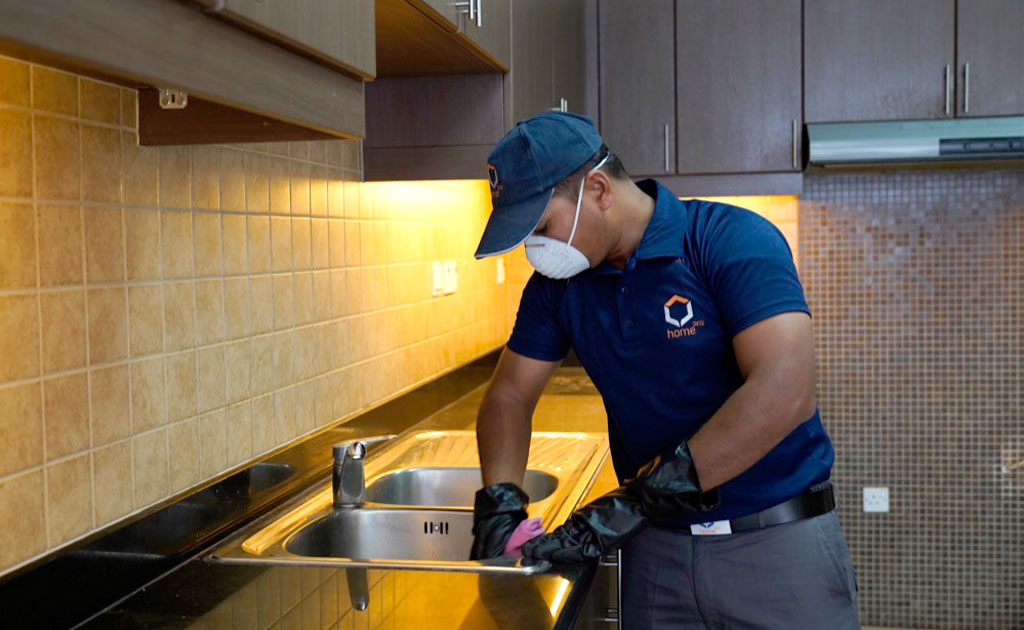 Every time we clean, we'll provide deep cleaning services that focus on the following areas:
Bathrooms: Scrubbing, sanitizing and washing bathroom sinks, bathtub, showerheads, taps, toilets, and other fixtures.

Bedrooms: Dusting, wiping shelves, tables and furniture. Cleaning top of wardrobes and high-level shelves. Vacuuming and mopping all the floors, cleaning each corner and areas behind and under furniture, cleaning AC vents and windows, linen change, and empty trash cans and bins.

Living Area: Dusting and vacuuming sofa and carpets, dusting shelves, tables and furniture, cleaning and polishing each corner and areas behind and under furniture, cleaning AC vents and windows, dusting wiping lampshades, vacuuming and mopping all the floors.

Kitchen: Vacuuming and mopping all the surfaces, scrubbing the floor, cleaning cabinets inside out, removing stains from kitchen appliances, refrigerator, microwave, and dishwasher, cleaning countertops, sinks and faucet.
Deep cleaning is the perfect way to ensure that your home environment is thoroughly extradited of dirt, dust, and mold and remains a safe and comfortable space for the entire family. HomePro can bring this experience right to your home. All our cleaning staff are reliable, trustworthy, with background and reference checked, certified by Dubai Municipality and trained to the highest standards in the region. Let our experts do the job while you relax and spend time with your dear ones. Your trusted cleaning services partner in Dubai is just a click away. Contact us today!